JadeScape
顺 福 轩

Last Updated on 31 MAY 2020
Jadescape Project Information
| | |
| --- | --- |
| Location | 2-16 Shunfu Road (D20) |
| Site Area | 36,985 Sqm / 398,106 Sqft |
| Units / Storeys | 1,206 + 6 Shop / 23 |
| Carpark Capacity | 1,206 + 8 (HC) + 6 (Shop) |
| Expected T.O.P. | Est. 2022 |
| Vacant Possession | 09 Jan 2023 |
| Tenure | 99 years from 19 Jun 2018 |
| Developer | Qingjian Realty (Marymount) Pte Ltd |
Jadescape Location Map
Near Marymount MRT and
future Upper Thomson MRT station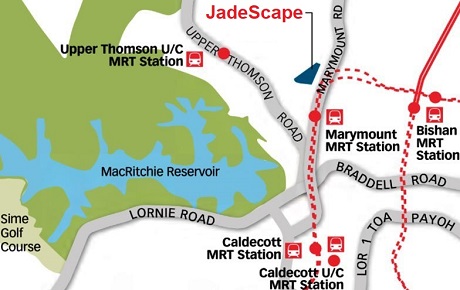 ---
Jadescape Unit Mix
| | | | |
| --- | --- | --- | --- |
| Unit Type | Sqm | Sqft | No. of Units |
| 1 Bedroom | 49 | 527 | 236 |
| 2 Bedroom | 60 | 646 | 90 |
| 2 Bedroom Deluxe | 71 | 764 | 269 |
| 2 Bedroom Premium | 72 | 775 | 44 |
| 3 Bedroom | 84 | 904 | 86 |
| 3 Bedroom Deluxe | 93-97 | 1001-1044 | 137 |
| 3 Bedroom Premium | 105-107 | 1130-1152 | 42 |
| 4 Bedroom | 116 | 1249 | 114 |
| 4 Bedroom Deluxe | 132 | 1421 | 67 |
| 4 Bedroom Suite | 153 | 1647 | 80 |
| 5 Bedroom Suite | 194 | 2088 | 39 |
| Penthouse | 390 | 4198 | 2 |
Jadescape Price List
| | | | |
| --- | --- | --- | --- |
| Type | Lo PSF | Lo Price | Hi Price |
| 1-Bedroom | $1,705 | $898,571 | $1,025,000 |
| 1-Bedroom plus Study | $1,755 | $925,204 | $1,068,581 |
| 2-Bedroom Deluxe | $1,669 | $1,275,408 | $1,503,456 |
| 2-Bedroom Premium | Sold | Sold | Sold |
| 3-Bedroom Deluxe | $1,728 | $1,749,694 | $1,915,714 |
| 3-Bedroom Premium | $1,622 | $1,868,776 | $2,023,980 |
| 4-Bedroom | $1,661 | $2,091,735 | $2,436,739 |
| 4-Bedroom Deluxe | $1,648 | $2,342,755 | $2,625,000 |
| 4-Bedroom Suite | $1,631 | $2,686,531 | $3,029,453 |
| 5-Bedroom Suite | $1,520 | $3,190,612 | $3,570,103 |
Estimated Maintenance Fee
| | |
| --- | --- |
| Unit Type | Per Month |
| 1 Bedroom (Type A) | $233 |
| 2 Bedroom (Type B1, B2 & B3) | $280 |
| 3 Bedroom (Type C1 & C2) | $280 |
| 3 Bedroom (Type C3) | $326 |
| 4 Bedroom (Type D1 & D2) | $326 |
| 4 & 5 Bedroom Premium (Type DP & EP) | $373 |
| Penthouses (Type PH) | $559 |
JadeScape Rationale
As a valuable material in itself,
Jade
in the name positions the property as one of luxury and prestige. Also
well known for its green varieties,
Jade
represents the varied, lush greenery and hints at the elegant grandeur instead of using 'green' or 'emerald'.
Scape
, describes the overall setting and nature inspired offerings of the property. Used in combination, liken to 'landscape', the name
JadeScape
denotes the extensiveness of the greenery(jade) in the development and visualizes the property as one that is rich in concept, value as well as nature.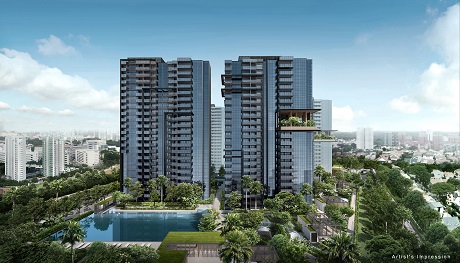 Review for JadeScape !
Why must Buy JadeScape ?
- Located in the heart of Singapore
- Walking distance (approx. 200m) to Marymount MRT and (approx. 600m)future Upper Thomson MRT station
- Well connected to 4 MRT Lines
* Circle Line Link to multiple MRT Exchange for your convenience and Connectively within 10-30 mins to everywhere in Singapore.
* North South Line. 5 stops away from Orchard.
* Thomson East Coast Line (U/C)
* Cross Island Line (Future)
- Well connected to PIE, CTE and future North South Corridor
- Near to Shopping Malls and Amenities (Shunfu Mart, Sin Ming Plaza, Thomson Plaza, Junction 8, AMK Hub & TPY Hub)
- Close to Reputable school such as Ai Tong Primary School, Catholic High School, Raffles Institution, Raffles Girls' School and Eunoia Junior College
- High potential Rental Yield
- Short stroll to MacRitchie Reservoir Park and Bishan-Ang Mo Kio Park. One and Only Area with 4 Nature Parks.
- Good Selection of 1,2,3,4,5 Bedroom and Penthouse Units. Luxurious and premium interior fittings
- More than 100 facilities within development to cater all your needs.
- Panoramic views toward MacRitchie Reservoir and unblocked views over neighbouring landed estates
- Equipped with comprehensive Smart Home features
- Come experience Singapore's 1st full Private Smart Home Show Unit in JadeScape!
- Designed by Award Winning Architect Paul Noritaka Tange, Tange Associates
---
We are Developer's Sale Team
No Commission Required
我们是开发商的销售团队
免佣金
Book an Appointment with us to view this Beautiful Project
Eric Tan @ 97881579 or
Cindy Ng @ 97738372
OR
---
Jadescape Available Units
| | | | | | | |
| --- | --- | --- | --- | --- | --- | --- |
| Blk | Units No. | Room | Type | Sqm | Sqft | Remarks |
| 2 | 01-01 | 2 BR Deluxe | B2(P) | 71 | 764 | Star Buy |
| 2 | 02-01 | 2 BR Deluxe | B2 | 71 | 764 | Star Buy |
| 2 | 03-01 | 2 BR Deluxe | B2 | 71 | 764 | Star Buy |
| 2 | 04-01 | 2 BR Deluxe | B2 | 71 | 764 | Star Buy |
| 2 | 13-01 | 2 BR Deluxe | B2 | 71 | 764 | |
| 2 | 14-01 | 2 BR Deluxe | B2 | 71 | 764 | |
| 2 | 15-01 | 2 BR Deluxe | B2 | 71 | 764 | |
| 2 | 16-01 | 2 BR Deluxe | B2 | 71 | 764 | |
| 2 | 17-01 | 2 BR Deluxe | B2 | 71 | 764 | |
| 2 | 18-01 | 2 BR Deluxe | B2 | 71 | 764 | |
| 2 | 19-01 | 2 BR Deluxe | B2 | 71 | 764 | |
| 2 | 20-01 | 2 BR Deluxe | B2 | 71 | 764 | |
| 2 | 22-01 | 2 BR Deluxe | B2 | 71 | 764 | |
| 2 | 23-01 | 2 BR Deluxe | B2 | 71 | 764 | |
| 2 | 06-04 | 1 BR | A | 49 | 527 | |
| 2 | 08-04 | 1 BR | A | 49 | 527 | |
| 2 | 09-04 | 1 BR | A | 49 | 527 | |
| 2 | 10-04 | 1 BR | A | 49 | 527 | |
| 2 | 11-04 | 1 BR | A | 49 | 527 | |
| 2 | 12-04 | 1 BR | A | 49 | 527 | |
| 2 | 13-04 | 1 BR | A | 49 | 527 | |
| 2 | 14-04 | 1 BR | A | 49 | 527 | Star Buy |
| 2 | 15-04 | 1 BR | A | 49 | 527 | Star Buy |
| 2 | 16-04 | 1 BR | A | 49 | 527 | Star Buy |
| 2 | 17-04 | 1 BR | A | 49 | 527 | Star Buy |
| 2 | 21-04 | 1 BR | A | 49 | 527 | |
| 2 | 22-04 | 1 BR | A | 49 | 527 | |
| 2 | 23-04 | 1 BR | A | 49 | 527 | |
| 2 | 04-05 | 1 BR | A | 49 | 527 | |
| 2 | 05-05 | 1 BR | A | 49 | 527 | |
| 2 | 06-05 | 1 BR | A | 49 | 527 | |
| 2 | 07-05 | 1 BR | A | 49 | 527 | |
| 2 | 08-05 | 1 BR | A | 49 | 527 | |
| 2 | 09-05 | 1 BR | A | 49 | 527 | |
| 2 | 10-05 | 1 BR | A | 49 | 527 | |
| 2 | 11-05 | 1 BR | A | 49 | 527 | |
| 2 | 12-05 | 1 BR | A | 49 | 527 | |
| 2 | 13-05 | 1 BR | A | 49 | 527 | |
| 2 | 14-05 | 1 BR | A | 49 | 527 | |
| 2 | 15-05 | 1 BR | A | 49 | 527 | |
| 2 | 16-05 | 1 BR | A | 49 | 527 | |
| 2 | 17-05 | 1 BR | A | 49 | 527 | |
| 2 | 18-05 | 1 BR | A | 49 | 527 | |
| 2 | 19-05 | 1 BR | A | 49 | 527 | |
| 2 | 20-05 | 1 BR | A | 49 | 527 | |
| 2 | 21-05 | 1 BR | A | 49 | 527 | |
| 2 | 22-05 | 1 BR | A | 49 | 527 | |
| 2 | 23-05 | 1 BR | A | 49 | 527 | |
| 2 | 03-07 | 3 BR | C1b | 84 | 904 | Star Buy |
| 2 | 14-07 | 3 BR | C1b | 84 | 904 | |
| 2 | 01-08 | 4 BR | D1(P) | 117 | 1259 | |
| 2 | 02-08 | 4 BR | D1 | 117 | 1259 | |
| 2 | 03-08 | 4 BR | D1 | 117 | 1259 | |
| 2 | 04-08 | 4 BR | D1 | 117 | 1259 | |
| 2 | 05-08 | 4 BR | D1 | 117 | 1259 | |
| 2 | 06-08 | 4 BR | D1 | 117 | 1259 | |
| 2 | 07-08 | 4 BR | D1 | 117 | 1259 | |
| 2 | 08-08 | 4 BR | D1 | 117 | 1259 | |
| 2 | 09-08 | 4 BR | D1 | 117 | 1259 | |
| 2 | 10-08 | 4 BR | D1 | 117 | 1259 | |
| 2 | 11-08 | 4 BR | D1 | 117 | 1259 | |
| 2 | 12-08 | 4 BR | D1 | 117 | 1259 | |
| 2 | 13-08 | 4 BR | D1 | 117 | 1259 | |
| 2 | 14-08 | 4 BR | D1 | 117 | 1259 | |
| 2 | 15-08 | 4 BR | D1 | 117 | 1259 | |
| 2 | 16-08 | 4 BR | D1 | 117 | 1259 | |
| 2 | 17-08 | 4 BR | D1 | 117 | 1259 | |
| 2 | 18-08 | 4 BR | D1 | 117 | 1259 | |
| 2 | 19-08 | 4 BR | D1 | 117 | 1259 | |
| 2 | 20-08 | 4 BR | D1 | 117 | 1259 | |
| 2 | 21-08 | 4 BR | D1 | 117 | 1259 | |
| 2 | 22-08 | 4 BR | D1 | 117 | 1259 | |
| 2 | 23-08 | 4 BR | D1 | 117 | 1259 | |
| 4 | 02-11 | 3 BR Deluxe | C2a | 94 | 1012 | |
| 4 | 03-11 | 3 BR Deluxe | C2a | 94 | 1012 | |
| 4 | 05-11 | 3 BR Deluxe | C2a | 94 | 1012 | |
| 4 | 07-11 | 3 BR Deluxe | C2a | 94 | 1012 | |
| 4 | 11-11 | 3 BR Deluxe | C2b | 98 | 1055 | |
| 4 | 19-11 | 3 BR Deluxe | C2b | 98 | 1055 | |
| 4 | 21-11 | 3 BR Deluxe | C2b | 98 | 1055 | |
| 4 | 22-11 | 3 BR Deluxe | C2b | 98 | 1055 | |
| 4 | 23-11 | 3 BR Deluxe | C2b | 98 | 1055 | |
| 4 | 04-12 | 3 BR Deluxe | C2a | 94 | 1012 | |
| 4 | 14-13 | 1 BR | A | 49 | 527 | |
| 4 | 15-13 | 1 BR | A | 49 | 527 | |
| 4 | 17-13 | 1 BR | A | 49 | 527 | |
| 4 | 18-13 | 1 BR | A | 49 | 527 | |
| 4 | 19-13 | 1 BR | A | 49 | 527 | |
| 4 | 20-13 | 1 BR | A | 49 | 527 | |
| 4 | 21-13 | 1 BR | A | 49 | 527 | |
| 4 | 22-13 | 1 BR | A | 49 | 527 | |
| 4 | 23-14 | 1 BR | A | 49 | 527 | |
| 4 | 15-15 | 1 BR | A | 49 | 527 | |
| 4 | 16-15 | 1 BR | A | 49 | 527 | |
| 4 | 17-15 | 1 BR | A | 49 | 527 | |
| 4 | 18-15 | 1 BR | A | 49 | 527 | |
| 4 | 20-15 | 1 BR | A | 49 | 527 | |
| 4 | 21-15 | 1 BR | A | 49 | 527 | |
| 4 | 22-15 | 1 BR | A | 49 | 527 | |
| 4 | 15-16 | 3 BR | C1a | 84 | 904 | |
| 4 | 16-16 | 3 BR | C1a | 84 | 904 | |
| 4 | 02-17 | 4 BR Deluxe | D2 | 132 | 1421 | |
| 4 | 03-17 | 4 BR Deluxe | D2 | 132 | 1421 | |
| 4 | 04-17 | 4 BR Deluxe | D2 | 132 | 1421 | |
| 4 | 05-17 | 4 BR Deluxe | D2 | 132 | 1421 | |
| 4 | 06-17 | 4 BR Deluxe | D2 | 132 | 1421 | |
| 4 | 08-17 | 4 BR Deluxe | D2 | 132 | 1421 | |
| 4 | 09-17 | 4 BR Deluxe | D2 | 132 | 1421 | |
| 4 | 11-17 | 4 BR Deluxe | D2 | 132 | 1421 | |
| 4 | 12-17 | 4 BR Deluxe | D2 | 132 | 1421 | |
| 4 | 13-17 | 4 BR Deluxe | D2 | 132 | 1421 | |
| 4 | 14-17 | 4 BR Deluxe | D2 | 132 | 1421 | |
| 4 | 15-17 | 4 BR Deluxe | D2 | 132 | 1421 | |
| 4 | 16-17 | 4 BR Deluxe | D2 | 132 | 1421 | |
| 4 | 17-17 | 4 BR Deluxe | D2 | 132 | 1421 | |
| 4 | 18-17 | 4 BR Deluxe | D2 | 132 | 1421 | |
| 4 | 20-17 | 4 BR Deluxe | D2 | 132 | 1421 | |
| 4 | 21-17 | 4 BR Deluxe | D2 | 132 | 1421 | |
| 4 | 22-17 | 4 BR Deluxe | D2 | 132 | 1421 | |
| 4 | 23-17 | 4 BR Deluxe | D2 | 132 | 1421 | |
| 4 | 01-18 | 2 BR Deluxe | B2(P) | 71 | 764 | Star Buy |
| 4 | 11-18 | 2 BR Deluxe | B2 | 71 | 764 | |
| 4 | 14-18 | 2 BR Deluxe | B2 | 71 | 764 | |
| 4 | 15-18 | 2 BR Deluxe | B2 | 71 | 764 | |
| 4 | 17-18 | 2 BR Deluxe | B2 | 71 | 764 | |
| 4 | 19-18 | 2 BR Deluxe | B2 | 71 | 764 | |
| 4 | 20-18 | 2 BR Deluxe | B2 | 71 | 764 | |
| 4 | 21-18 | 2 BR Deluxe | B2 | 71 | 764 | |
| 4 | 22-18 | 2 BR Deluxe | B2 | 71 | 764 | |
| 4 | 23-18 | 2 BR Deluxe | B2 | 71 | 764 | |
| 6 | 20-19 | 2 BR | B1 | 60 | 646 | |
| 6 | 15-20 | 2 BR | B1 | 60 | 646 | |
| 6 | 14-21 | 3 BR Deluxe | C2b | 98 | 1055 | |
| 4 | 14-23 | 2 BR Deluxe | B2 | 71 | 764 | |
| 4 | 15-23 | 2 BR Deluxe | B2 | 71 | 764 | |
| 4 | 18-23 | 2 BR Deluxe | B2 | 71 | 764 | |
| 4 | 19-23 | 2 BR Deluxe | B2 | 71 | 764 | |
| 4 | 20-23 | 2 BR Deluxe | B2 | 71 | 764 | |
| 4 | 21-23 | 2 BR Deluxe | B2 | 71 | 764 | |
| 4 | 22-23 | 2 BR Deluxe | B2 | 71 | 764 | |
| 4 | 23-23 | 2 BR Deluxe | B2 | 71 | 764 | |
| 6 | 01-24 | 4 BR | D1(P) | 117 | 1259 | |
| 6 | 02-24 | 4 BR | D1 | 117 | 1259 | |
| 6 | 03-24 | 4 BR | D1 | 117 | 1259 | |
| 6 | 05-24 | 4 BR | D1 | 117 | 1259 | |
| 6 | 12-24 | 4 BR | D1 | 117 | 1259 | |
| 6 | 13-24 | 4 BR | D1 | 117 | 1259 | |
| 6 | 14-24 | 4 BR | D1 | 117 | 1259 | |
| 6 | 15-24 | 4 BR | D1 | 117 | 1259 | |
| 6 | 16-24 | 4 BR | D1 | 117 | 1259 | |
| 6 | 17-24 | 4 BR | D1 | 117 | 1259 | |
| 6 | 18-24 | 4 BR | D1 | 117 | 1259 | |
| 6 | 20-24 | 4 BR | D1 | 117 | 1259 | |
| 6 | 22-24 | 4 BR | D1 | 117 | 1259 | |
| 6 | 23-24 | 4 BR | D1 | 117 | 1259 | |
| 6 | 02-25 | 4 BR Deluxe | D2 | 132 | 1421 | Star Buy |
| 6 | 21-25 | 4 BR Deluxe | D2 | 132 | 1421 | |
| 8 | 19-28 | 3 BR Deluxe | C2b | 98 | 1055 | |
| 8 | 07-29 | 3 BR Deluxe | C2a | 94 | 1012 | |
| 8 | 17-29 | 3 BR Deluxe | C2b | 98 | 1055 | |
| 8 | 18-29 | 3 BR Deluxe | C2b | 98 | 1055 | |
| 8 | 22-29 | 3 BR Deluxe | C2b | 98 | 1055 | |
| 8 | 02-30 | 2 BR Deluxe | B2 | 71 | 764 | |
| 8 | 13-30 | 2 BR Deluxe | B2 | 71 | 764 | |
| 8 | 14-30 | 2 BR Deluxe | B2 | 71 | 764 | Star Buy |
| 8 | 15-30 | 2 BR Deluxe | B2 | 71 | 764 | Star Buy |
| 8 | 16-30 | 2 BR Deluxe | B2 | 71 | 764 | Star Buy |
| 8 | 17-30 | 2 BR Deluxe | B2 | 71 | 764 | Star Buy |
| 8 | 21-30 | 2 BR Deluxe | B2 | 71 | 764 | |
| 8 | 22-30 | 2 BR Deluxe | B2 | 71 | 764 | |
| 8 | 23-30 | 2 BR Deluxe | B2 | 71 | 764 | |
| 8 | 07-33 | 4 BR | D1 | 117 | 1259 | |
| 8 | 14-33 | 4 BR | D1 | 117 | 1259 | |
| 8 | 17-33 | 4 BR | D1 | 117 | 1259 | |
| 10 | 05-38 | 1 BR | A | 49 | 527 | |
| 12 | 02-41 | 2 BR Deluxe | B2 | 71 | 764 | |
| 12 | 03-41 | 2 BR Deluxe | B2 | 71 | 764 | |
| 12 | 04-41 | 2 BR Deluxe | B2 | 71 | 764 | |
| 12 | 05-41 | 2 BR Deluxe | B2 | 71 | 764 | |
| 12 | 13-41 | 2 BR Deluxe | B2 | 71 | 764 | |
| 12 | 01-43 | 4 BR Suite | DP(P) | 153 | 1647 | |
| 12 | 02-43 | 4 BR Suite | DP | 153 | 1647 | |
| 12 | 03-43 | 4 BR Suite | DP | 153 | 1647 | |
| 12 | 04-43 | 4 BR Suite | DP | 153 | 1647 | |
| 12 | 05-43 | 4 BR Suite | DP | 153 | 1647 | |
| 12 | 06-43 | 4 BR Suite | DP | 153 | 1647 | |
| 12 | 09-43 | 4 BR Suite | DP | 153 | 1647 | |
| 12 | 10-43 | 4 BR Suite | DP | 153 | 1647 | |
| 12 | 11-43 | 4 BR Suite | DP | 153 | 1647 | |
| 12 | 12-43 | 4 BR Suite | DP | 153 | 1647 | |
| 12 | 13-43 | 4 BR Suite | DP | 153 | 1647 | |
| 12 | 14-43 | 4 BR Suite | DP | 153 | 1647 | |
| 12 | 16-43 | 4 BR Suite | DP | 153 | 1647 | |
| 12 | 17-43 | 4 BR Suite | DP | 153 | 1647 | |
| 12 | 19-43 | 4 BR Suite | DP | 153 | 1647 | |
| 12 | 21-43 | 4 BR Suite | DP | 153 | 1647 | |
| 12 | 22-43 | 4 BR Suite | DP | 153 | 1647 | |
| 12 | 02-44 | 1 BR | A | 49 | 527 | |
| 12 | 04-44 | 1 BR | A | 49 | 527 | |
| 12 | 08-44 | 1 BR | A | 49 | 527 | |
| 12 | 10-44 | 1 BR | A | 49 | 527 | |
| 12 | 11-44 | 1 BR | A | 49 | 527 | |
| 12 | 12-44 | 1 BR | A | 49 | 527 | |
| 12 | 13-44 | 1 BR | A | 49 | 527 | |
| 12 | 14-44 | 1 BR | A | 49 | 527 | |
| 12 | 15-44 | 1 BR | A | 49 | 527 | |
| 12 | 17-44 | 1 BR | A | 49 | 527 | |
| 12 | 19-44 | 1 BR | A | 49 | 527 | |
| 12 | 20-44 | 1 BR | A | 49 | 527 | |
| 12 | 21-44 | 1 BR | A | 49 | 527 | |
| 12 | 22-44 | 1 BR | A | 49 | 527 | |
| 12 | 23-44 | 1 BR | A | 49 | 527 | |
| 12 | 01-45 | 4 BR Suite | DP(P) | 153 | 1647 | |
| 12 | 02-45 | 4 BR Suite | DP | 153 | 1647 | |
| 12 | 03-45 | 4 BR Suite | DP | 153 | 1647 | |
| 12 | 04-45 | 4 BR Suite | DP | 153 | 1647 | |
| 12 | 05-45 | 4 BR Suite | DP | 153 | 1647 | |
| 12 | 06-45 | 4 BR Suite | DP | 153 | 1647 | |
| 12 | 07-45 | 4 BR Suite | DP | 153 | 1647 | |
| 12 | 08-45 | 4 BR Suite | DP | 153 | 1647 | |
| 12 | 09-45 | 4 BR Suite | DP | 153 | 1647 | |
| 12 | 10-45 | 4 BR Suite | DP | 153 | 1647 | |
| 12 | 11-45 | 4 BR Suite | DP | 153 | 1647 | |
| 12 | 12-45 | 4 BR Suite | DP | 153 | 1647 | |
| 12 | 14-45 | 4 BR Suite | DP | 153 | 1647 | |
| 12 | 16-45 | 4 BR Suite | DP | 153 | 1647 | |
| 12 | 17-45 | 4 BR Suite | DP | 153 | 1647 | |
| 12 | 18-45 | 4 BR Suite | DP | 153 | 1647 | |
| 12 | 19-45 | 4 BR Suite | DP | 153 | 1647 | |
| 12 | 21-45 | 4 BR Suite | DP | 153 | 1647 | |
| 12 | 22-45 | 4 BR Suite | DP | 153 | 1647 | |
| 12 | 02-46 | 5 BR Suite | EP | 195 | 2099 | |
| 12 | 03-46 | 5 BR Suite | DP | 195 | 2099 | |
| 12 | 04-46 | 5 BR Suite | DP | 195 | 2099 | |
| 12 | 05-46 | 5 BR Suite | DP | 195 | 2099 | |
| 16 | 02-55 | 3 BR Prem | C3b | 106 | 1141 | |
| 16 | 03-55 | 3 BR Prem | C3b | 106 | 1141 | |
| 16 | 04-55 | 3 BR Prem | C3b | 106 | 1141 | |
| 16 | 15-55 | 3 BR Prem | C3b | 106 | 1141 | |
| 16 | 17-55 | 3 BR Prem | C3b | 106 | 1141 | |
| 16 | 21-55 | 3 BR Prem | C3b | 106 | 1141 | |
| 16 | 01-58 | 1 BR | A(P) | 49 | 527 | |
| 16 | 10-58 | 1 BR | A | 49 | 527 | |
| 16 | 11-58 | 1 BR | A | 49 | 527 | |
| 16 | 12-58 | 1 BR | A | 49 | 527 | |
| 16 | 13-58 | 1 BR | A | 49 | 527 | |
| 16 | 14-58 | 1 BR | A | 49 | 527 | |
| 16 | 15-58 | 1 BR | A | 49 | 527 | |
| 16 | 17-58 | 1 BR | A | 49 | 527 | |
| 16 | 18-58 | 1 BR | A | 49 | 527 | |
| 16 | 20-58 | 1 BR | A | 49 | 527 | |
| 16 | 21-58 | 1 BR | A | 49 | 527 | |
| 16 | 01-59 | 1 BR | A(P) | 49 | 527 | Star Buy |
| 16 | 04-59 | 1 BR | A | 49 | 527 | |
| 16 | 05-59 | 1 BR | A | 49 | 527 | |
| 16 | 07-59 | 1 BR | A | 49 | 527 | |
| 16 | 08-59 | 1 BR | A | 49 | 527 | |
| 16 | 10-59 | 1 BR | A | 49 | 527 | |
| 16 | 11-59 | 1 BR | A | 49 | 527 | |
| 16 | 12-59 | 1 BR | A | 49 | 527 | |
| 16 | 13-59 | 1 BR | A | 49 | 527 | |
| 16 | 14-59 | 1 BR | A | 49 | 527 | |
| 16 | 15-59 | 1 BR | A | 49 | 527 | |
| 16 | 16-59 | 1 BR | A | 49 | 527 | |
| 16 | 17-59 | 1 BR | A | 49 | 527 | |
| 16 | 20-59 | 1 BR | A | 49 | 527 | |
| 16 | 21-59 | 1 BR | A | 49 | 527 | |
| 16 | 04-60 | 2 BR | C1b | 107 | 904 | |
| 16 | 09-60 | 2 BR | C1b | 107 | 904 | |
| 16 | 21-60 | 2 BR | C1b | 107 | 904 | |
| 16 | 01-61 | 3 BR Prem | C3a(P) | 107 | 1152 | |
| 16 | 02-61 | 3 BR Prem | C3a | 107 | 1152 | |
| 16 | 03-61 | 3 BR Prem | C3a | 107 | 1152 | |
| 16 | 04-61 | 3 BR Prem | C3a | 107 | 1152 | |
| 16 | 05-61 | 3 BR Prem | C3a | 107 | 1152 | |
| 16 | 07-61 | 3 BR Prem | C3a | 107 | 1152 | |
| 16 | 09-61 | 3 BR Prem | C3a | 107 | 1152 | |
| 16 | 14-61 | 3 BR Prem | C3a | 107 | 1152 | |
| 16 | 05-62 | 2 BR Deluxe | B2 | 71 | 764 | |
| 16 | 14-62 | 2 BR Deluxe | B2 | 71 | 764 | |
| 16 | 19-62 | 2 BR Deluxe | B2 | 71 | 764 | |
JadeScape Floor Plan
1 BR Type Ag 49 Sqm / 527 Sqft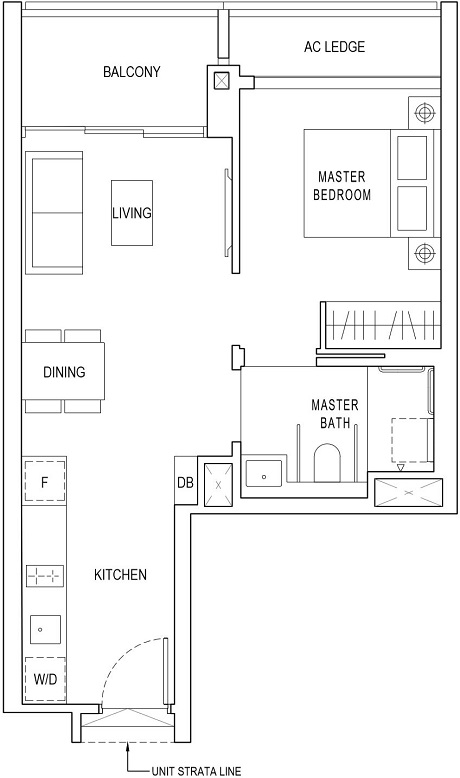 1 BR Type A 49 Sqm / 527 Sqft
2 BR Type B1 60 Sqm / 646 Sqft
2 BR Type B2 71 Sqm / 764 Sqft
2 BR Type B3 72 Sqm / 775 Sqft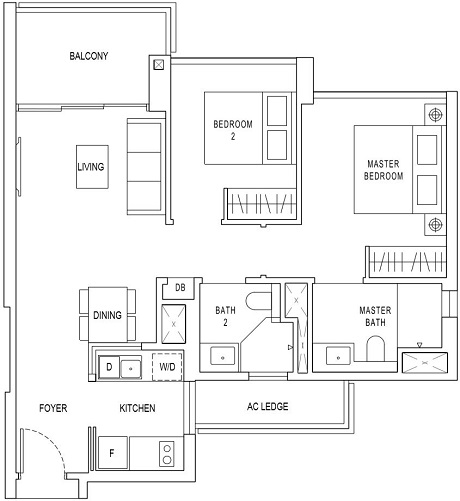 3 BR Type C1a 84 Sqm / 904 Sqft
3 BR Type C1b 84 Sqm / 904 Sqft
3 BR Type C2a 94 Sqm / 1,012 Sqft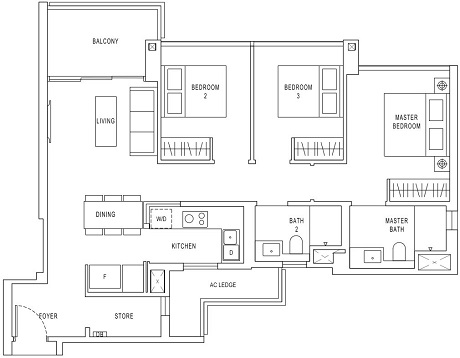 3 BR Type C2b 98 Sqm / 1,055 Sqft
3 BR Type C3a 107 Sqm / 1,152 Sqft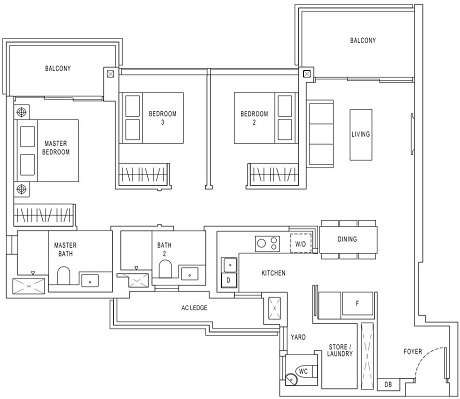 3 BR Type C3b 106 Sqm / 1,141 Sqft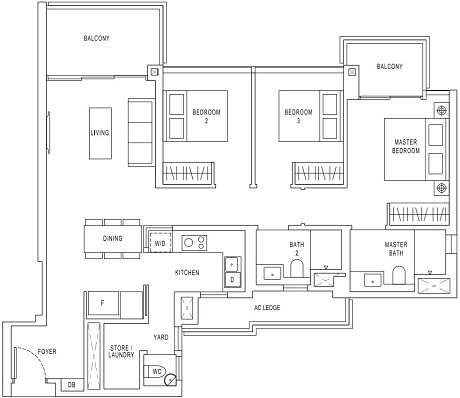 4 BR Type D1 117 Sqm / 1,259 Sqft
4 BR Type D2 132 Sqm / 1,421 Sqft
4 BR Type DP(P) 152 Sqm / 1,647 Sqft
4 BR Type DP 152 Sqm / 1,647 Sqft
5 BR Type EP(P) 195 Sqm / 2,099 Sqft
5 BR Type EP 195 Sqm / 2,099 Sqft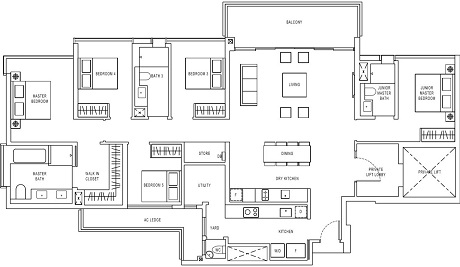 ---
---
Other New Launch Condominium
Leasehold Condo
Kent Ridge Hill Residences @ D05
Freehold Condo